Kinta Kokuin
Alternate names
Kintaro Kokuin
Nickname
The strong and immature kindergarten kid
Age
6 (PI2), 7 (BnK)
Birthdate
April 1, 1988
Birthplace
Akukaragunkaraakukara Town, Japan
Height
109.6 cm
Weight
18 kg
Blood type
A
Animal
Dog
Zodiac
Aries
Occupation
Kindergarten Student
Attack specialty
Being a bad kid
Family
Haruki (Great grandfather)
Shusaku (Grandfather)
Osamu (Father)
Taku (Eldest brother)
Kenji (Older brother)
Takeshi (3rd brother)
Poochy (Pet, deceased)
"Us kids are pwretty stwrong when we want to be!"
Kintaro Kokuin (弧空院 金田朗, Kokuuin Kintarou) is a character in the Power Instinct series, first having debuted in the sequel. He is based on the Kintaro character in Japanese folklore. His name was edited to Kinta Kokuin in the US versions of Power Instinct 2 and Power Instinct Legends. In PI2, the edit is quite noticeable in his name graphic and when the announcer says his name (despite this, he was still called Kintaro in certain texts).
Kinta has become a highly criticized character in the series, if not fighting games in general. This is due in part to various aspects of his design, with one instance where his genitals are exposed whenever he's knocked into the air in his earliest appearances.
Along with these animations, his throw move (Noumiso Nage) was censored in the more recent games; in Power Instinct 2 and Power Instinct Legends, Kintaro ordinarily bites and sucks the opponent's head, but if the opponent was a female, Kintaro will do this on their breasts. This was changed later on where he also bites the female fighters on their heads.
About Kinta
Edit
A little brat clad in only a bib. But don't be fooled by his height and his funny look, because Kinta is an animal lover and if he needs help, his fish and bear can give him a hand. He also possesses the power to transform himself into the super dog-like hero Poochy.
Great grandson of Kokuin Kanji's youngest brother, Haruki, Kintaro is a hyperactive and aggressive kid who always gets in trouble. Born in a male-dominated family, his brothers are also as problematic as he is. His father wasn't able to give him much attention, so to compensate for this, Kintaro's father gave him a little puppy when he was younger, and the dog quickly became Kintaro's best friend and playmate. However, as the time went by, Kintaro's behavior got worse.
Kintaro's father, unable to discipline him, decided to register him in the Warugaki Kindergarten, an institution that specializes in problematic kids. Kintaro took his puppy with him to his new home.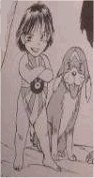 On vacations, he went to visit his family, and it was here he heard of the Goketsuji Tournament and decided to participate. When he returned to Warugaki, his classmates told him that his dog was wounded during a school rumble, and was gravely ill.
When he got there, Poochy was dying, Kintaro started to cry, then  Poochy told him this: "Waf wa. Nwa nwan! (Don't cry, I won't leave you alone!)" Since his passing, Kintaro feels his presence any time he has trouble, and whenever he needs help, Poochy lends his energy, allowing Kintaro to transform into a stronger version of himself.
Participation Details
Edit
Kintaro heard from Kokuin Kanji about the Goketsuji tournament, and since in Warugaki there are many other tough kids, he figured that by challenging older people and winning the tournament he will prove that he is the strongest and toughest child, and in that way earn the admiration and respect from all his classmates. Kintaro escapes from Warugaki and signs in for the tournament without telling his father.
The results of the previous tournament wasn't what Kintaro expected and he knew about Kanji's plan to hold another tournament. Kinta signed in for the tournament even though he didn't get the approval of his father or his grand granduncle.
Power Instinct Matrimelee
Kintaro got the invitation for the Matrimelee tournament, but Poochy stole it, leaving him unable to participate. However Kintaro was not really interested in getting married anyways, so he didn't consider it a major loss.
Kintaro dreams of becoming a great super hero, so he participates in the Bonnou no Kaihou tournament to win a giant robot like the ones that appear in his favorites TV shows.
Expecting that the festival will come with a great feast, Kinta borrowed some cash from Kanji's pocket to gain entry into the ancestors commemoration.
Special Moves
Edit
Music Themes
Edit
Warugaki Yochien Enka (Kindergarten Brat Ballad) - Power Instinct 2
Enji Ensou Ni Yoru Aku Gaki Youchien Enka - Power Instinct Legends
Bokurano Hi Mi Tu (Our Secrets) - Bonnou no Kaihou
Wakusei Pentagin Boshi Enka (Planet Pentagin Star Ballad) - Senzo Kuyou
Appearances
Edit
Related Characters
Edit
The address to the Warugaki Kindergarten is: Main street Evil Kid 144-963, Evil Kids Town.
External Links
Edit